I have been a horrible blogger as of late. I am going to try to get back into the grove of a post a day since several months of not writing is not okay. Can I use the excuse that I have been researching for my novel?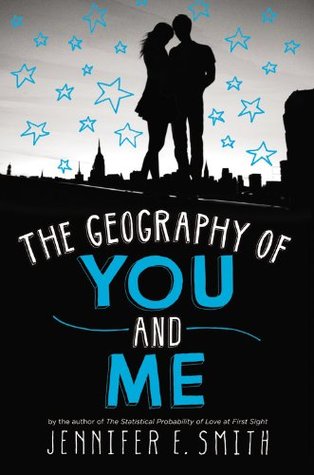 When the power goes out in New York City, Lucy and Owen accidentally cross paths. The two meet when their elevator gets stuck. Once freed, the two spend the rest of the night together, but without power everything is little different. Things return to normal when power is restored, but the two of them will never be the same. Owen is adjusting to life without his mother who has recent;y passed away. He and his father are trying to figure out how to live in a world without her. Lucy wants to see the world. Her parents are often traveling, but they seem to prefer to leave their children out of the mix. The two have very different plans for their lives, but someone they just can't be apart. When both of their lives take unexpected turns, they do their best to stay together, but will it be enough?
The Geography of You and Me
takes readers through the very realistic development of a love story and you won't be able to help falling in love with these characters.
I am beginning to adore
Jennifer E. Smith
. The scenarios that play out his books work so well that I can really see these characters and picture them actually existing. I really felt for Lucy and Owen. Though my teen years were very different from theirs, I could relate. Smith knows how to write teenage characters that you can't help but root for. I've said before how much I need to read