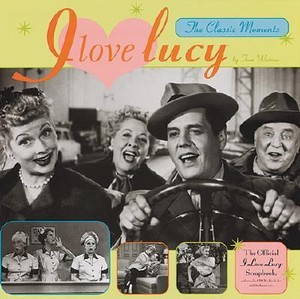 If you aren't a big fan of
I Love Lucy
then this book is not for you. However, If you too love Lucy, then
I Love Lucy: The Classic Moments
is definitely worth perusing, though I don't see myself buying it any time soon.
This book is a collection of pictures, descriptions and trivia about some of the "best" moments from the
I Love Lucy
show. While it was very interesting, my biggest complaint is that it only contained some of the episodes. Since I personally love every episode, I would have preferred a book that had page for each episode. I didn't like how some episodes were crammed several to a page without any of the trivia. Some of my all time favorite moments were missing entirely. Sure there are those moments that viewers will never forget such as the chocolate conveyor belt, Lucy stomping grapes and the infamous egg tango, but as someone who will watch this show over and over, it was disappointing to not see certain moments reflected in this book.
Now don't get me wrong, as a whole this book is worth taking the time to enjoy. It's a great way to reminisce about this iconic comedy, but if I am going to pay $20 for an
I Love Lucy
book, then I want one with a little more to offer. Titles that I have also read and enjoyed more include;
I Love Lucy: A Celebration of All Things Lucy: Inside the World of Television's First Great Sitcom and
The I Love Lucy Scrapbook, both of which are similar but with a lot more too offer. Though not fully dedicated to the show Love, Lucy is also a great read for those wanting to know more about the Queen of Comedy. If you are interested in this book, I suggest seeing if your local library has a copy and looking at it before purchasing your own copy.
Happy Reading!
-Melly