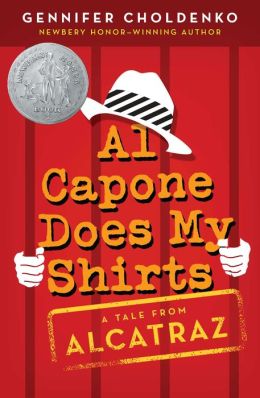 This book is a lot of fun and has an interesting look at history. Moose and his family has just moved to Alcatraz Island. His father is going to be working on the island and his sister Natalie will be going to a special school in San Francisco. Moose is not too thrilled to be leaving his life behind, but as the novel progresses, he gets used to be the neighbor of many notorious criminals including Al Capone himself. Because Natalie is different from other children (in the author's note,
Choldenko
describes how Natalie has autism, it just wasn't specifically known about during the time frame of the novel) and because of this, Moose is under the watchful eye of the warden while Natalie is staying with her family on the island. But even so, he still gets caught up when the warden's daughter, Piper conceives a plan to charge their classmates to have their clothes cleaned by the convicts of Alcatraz. This book is full of laughs and contains many facts from Alcatraz's history.
Part of this book's appeal for me was that I have visited Alcatraz. I love when I can read a book and actually visualize the location, not just have to imagine what it may look like. I also love that Choldenko includes that author's note at the end of the novel that gives further back story into the history of Alcatraz Island. I love when a fiction book can be paired with a non-fiction book so as a way to better spark the interest of kids and this is a perfect example of a book that can do so. This book also touches on the fact that the Great Depression was also taking place during this time.
Al Capone Does My Shirts
is a great book, especially for boys who will probably enjoy reading what it may have been like to live on such an island.
Happy Reading!
-Melly