In April 1942, Lale Sokolov, a Slovakian Jew, is forcibly transported to the concentration camps at Auschwitz-Birkenau. When his captors discover that he speaks several languages, he is put to work as a Tätowierer (the German word for tattooist), tasked with permanently marking his fellow prisoners.

Imprisoned for over two and a half years, Lale witnesses horrific atrocities and barbarism—but also incredible acts of bravery and compassion. Risking his own life, he uses his privileged position to exchange jewels and money from murdered Jews for food to keep his fellow prisoners alive.

One day in July 1942, Lale, prisoner 32407, comforts a trembling young woman waiting in line to have the number 34902 tattooed onto her arm. Her name is Gita, and in that first encounter, Lale vows to somehow survive the camp and marry her.

A vivid, harrowing, and ultimately hopeful re-creation of Lale Sokolov's experiences as the man who tattooed the arms of thousands of prisoners with what would become one of the most potent symbols of the Holocaust, The Tattooist of Auschwitz is also a testament to the endurance of love and humanity under the darkest possible conditions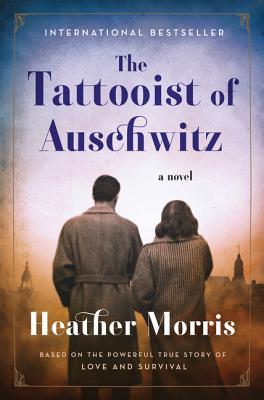 I have read a lot on the holocaust. The majority of what I have read is non-fiction, and the majority of that is memoirs. However, many of the fiction pieces I have read are just as memorable and almost as gut wrenching as pieces written by people who lived through the experience. Naturally, when I came across The Tattooist of Auschwitz, it caught my attention. I knew nothing going in other than the the title, so at first I didn't realize that it was based on the true accounts of
Lale Sokolo. I'm sad to say that I wasn't very impressed with this particular book.
The story at the heart of the novel is fascinating. I did my own research on the real people in this novel and the history behind the novel is nothing short of amazing. Lale was an incredibly courageous man and his love for Gita is so inspiring. Their lives after the novel were also interesting. So why didn't this novel appeal to me? I think the first thing that bothered me was the writing. The novel is written in first person, which didn't work for me. I wondered if the technique was chosen so that it didn't feel like a piece of history but instead like the reader was really there in the moment. Whatever the reason, it was somewhat annoying to read. Additionally, I felt like the writing itself was rather bland. Morris does a good job of hitting all of the correct beats that one would expect to find in a book that takes place at Auschwitz, but I never really felt terror like I expect when dealing with such subjects. I felt like I was moving from one moment to the next, but in a way that wasn't compelling. I liked that the story got started almost immediately, with almost not build up, but it still felt rather boring throughout it's entirety. I also struggled because scenes transitioned at odd times without much warning. The last thing that bothered me, was that this book is a novel.
Heather Morris
describes meeting with Sokolo before writing the book. I can't help but wonder what liberties were taken that made this book be listed as a work of fiction. Perhaps I would have enjoyed it more if it weren't fictionalized.
I suppose it should be noted that I watched Schindler's List for the first time the night before I read this novel. Perhaps the bar was unfairly raised. Maybe, I was subconsciously expecting more than could be delivered in a novel. Whatever, the reason, this book wasn't for me. I'm glad I read it because I was able to learn the captivating history of several people, I just wish that I had come across these people in a different context.
Happy Reading!
-Melly